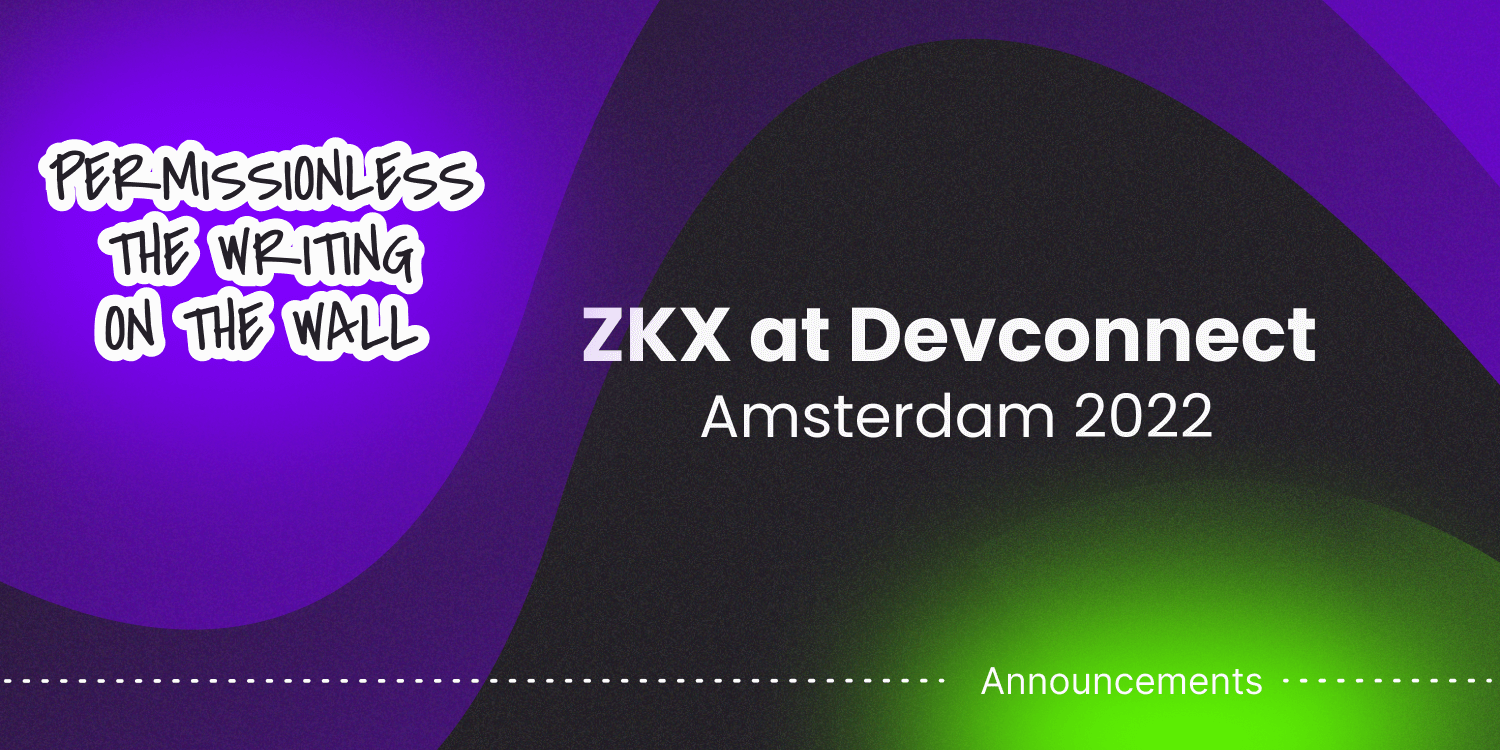 A recap of Team ZKX at Amsterdam!
We were thrilled to be at Devconnect Amsterdam and present ZKX for the first time. It was a wonderful experience meeting with people from the developer community, our StarkWare brethren, and other protocols. A huge shoutout to the Devconnect team, who put on a phenomenal week for all of us.
The conference took place from April 18th to April 26th, 2022. We divided our time between The DAOist's GGG, L2Beat's Layer Two Amsterdam, CryptoCanal's DeFi Day, the StarkNet Hackathon, and the first StarkNet Mixer—Powered by ZKX.
In our first-ever public reveal, Eduard (Founder at ZKX) gave a breakdown of the derivatives market and showcased how perpetual swaps are dominating it. He then defined the current problems with most perpetual swap platforms, such as limited mechanisms to bootstrap liquidity for new derivatives, high dependency on oracles and market makers, and why governance isn't decentralized.
But things are about to change. We got a glimpse of this when he presented ZKX as "an open-source permissionless swap protocol that enables trading derivatives of assets on StarkNet with built-in rewards mechanisms, liquidity provisioning, and complex trading strategies."
Following this, Eduard introduced ZKX's Liquid Governance Model which will enable the fair representation of all stakeholders in the protocol by providing Virtual Governance Shares (VGS) according to each stakeholder's behavior in the protocol.
Read Nurstar.eth's recap on Eduard's talk below. You can watch the recording of the video here.
Eduard also dropped some alpha, and there's more in store for the summer!
On the 20th, Vitaly (CTO at ZKX) presented ZKX's technical vision — To build DeFi 3.0 with Cairo.
He explained ZKX's vision of DeFi 3.0 in three points:
The DAO is placed on top of the open-source protocol to coordinate growth.
Decentralized Limit Order Book (DLOB) and price feed (the ZKX node network).
L2 Scaling: StarkWare, StarkNet, and ZK rollups — The Holy Trinity.
Vitaly also explained the difference between working on Cairo vs. Solidity during his talk. According to him, it can take anywhere between 2 weeks to 2 months to achieve 'koselig' with Cairo. It depends on how skilled and experienced the developers are.
Liron Hayman from the StarkWare team took note of Vitaly's view:
You can catch the whole recap of Vitaly's talk by Zaiteku — ZKX's free-spirited intern. The recording can be accessed here.
At DeFi Day, Eduard spoke about leveling the playing field for Perpetual Trading. He introduced a couple of fundamental concepts that the team is researching to build the future of DeFi.
The first two are Option-strategy Swaps and a new type of funding rate called the "Adaptive Balancing Rate" (ABR).
He also talked about Swap Liquidity Mining, a feature within the ZKX protocol that will enable DAOs, protocols, and the community to list perpetual swaps for their tokens and offer incentives in any ERC-20 tokens as rewards for traders.
We were thrilled to sponsor the first StarkNet Hackathon. It was an honor to be amongst the best minds in the ecosystem. Our heartiest congratulations to the winners of the Hackathon — briq, LootRealms, and Topology. We can't wait to be back with these gigabrains in the next edition!
We also hosted a StarkNet Mixer over the weekend and the response from the community was electric! We shared drinks, stories, and vibes with over 200 people. Based on the night's success, we plan to host more mixers for the StarkWare fam at major events.
All in all, we had a blast at Devconnect Amsterdam! A big thank you to all the event organizers for making it possible. Shoutout to the StarkWare universe and the new friends we've made — until next time, folks. For now, we're back to the buidling — As Eduard said:
ZKX is hiring! Join us to build the future of DeFi with ZKX. View open roles here — apply.workable.com/zkx
Join our Discord to keep up with the latest!